Intro / BIO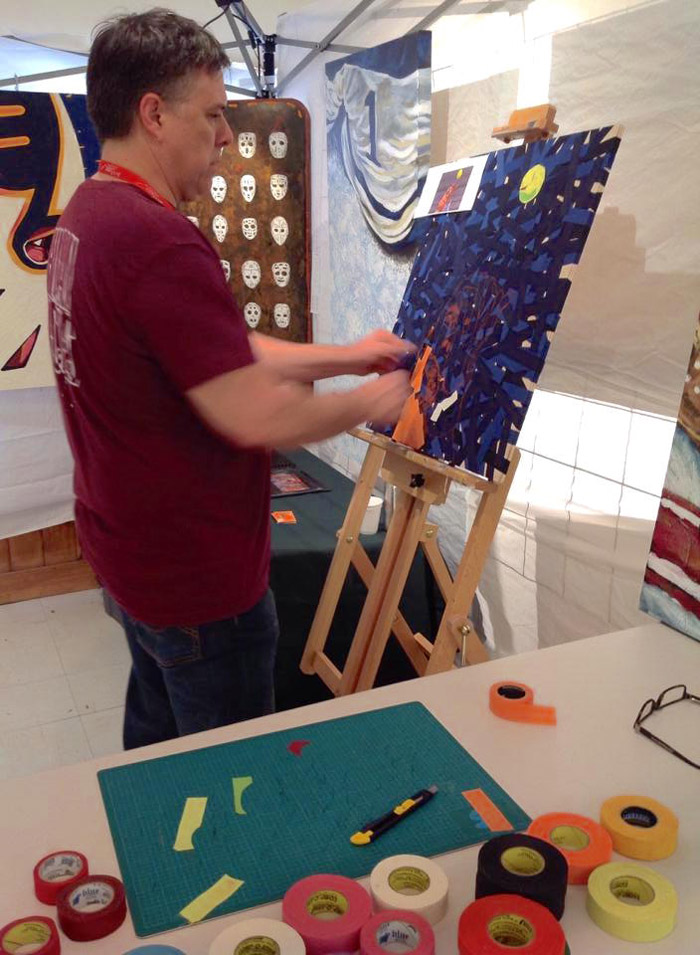 Artistic approach
From their conception to completion, René Bégin's artworks are done with a clear intention. Bégin's art evokes emotion and energy that takes on a life of their own.He celebrates everyday scenes and captures universal emotions found in sporting and urban life. René's work taps into a unique frame of cultural and social reflection that is uniquely Canadian. After several years of experimentation and stylistic research, Bégin has landed on a unusual pictorial technique. The Montreal native uses hockey tape on wood-panelling as the foundation of his true northern artwork. Some of his creations are exclusively made using the sporting tape and he often layers paint into the colour blocking. The treatment provides an urgency that enhances his sports artwork and add an energy to
his urban work.
The juxtaposition of the clean angular lines of tape with the bold uneven stroke of the brush, Bégin creates colourful art pieces that are vital.
His artwork often celebrates historical sports figures, while occasionally putting the crowd in the foreground sharing the spotlight. Although he starts with a structure and framework, the accidents of mark making are where the magic comes from. The vague gestures at first glance may appear confusing, but when you step back the marks come into focus in a way that is relevant and unexpected.
Some of René works are designed simply in tape, others only using acrylic paint, while the mix of both techniques work to great effect. Never one to use the same recipe, he always tries to follow a different trajectory for each of his works. Bégin's graphic designer background is evident in the visual tension and dramatic compositions he employs. Bégin defines his artwork as contemporary figurative; a style that flirts with vintage
and pop-art.
BIO
From the age of 3, René draws everything that surrounds him. he participates in all drawing contests at elementary and high school. After a University degree in Graphic Design and a career of more than 20 years in advertising and graphic arts, he decided to paint attending a class in acrylic painting in 2010. He began by painting large formats in a figurative style of scenes and sports portraits, landscapes, characters and scenes from everyday life. In the meantime, He created a new and unusual pictorial technique with vinyl sport tape on wood panel. After several years of experimentation and stylistic research, he presented a first solo exhibition in Candiac in autumn 2014 becoming a professional artist at the same time. Since then, he has participated in several collective exhibitions and symposiums throughout Quebec, as well as exhibiting in galleries in Montreal. Three of my paintings are selected twice for the shooting of the television series Patrice Michaud 24/7 at Super Écran for the seasons 2014 and 2015 and two others are included in the show Silence on joue at SRC for the seasons 2016 and 2017. In the same way, his work in Tape Art is the subject of many television reports on Radio-Canada (Infoman 2018, Quelle histoire 2015), V-TV (News 2017), TVA (Fanatik news 2015) as well as a report in web newspaper La Presse + in April 2016. Last April, he exhibited his works in New York at the Artexpo with the Artblend Gallery.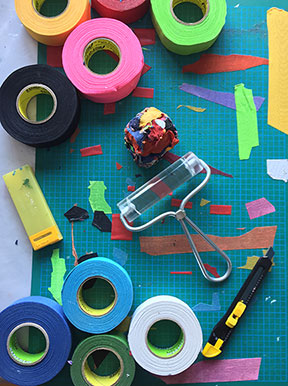 Technique
Formation
Acrylic paint with Céline Girard, Delson,

2010

Degree Advertising, U Mtl,

1990

BAC Graphic Design, UQAM,

1989
Solos exhibitions
Tape art and Sport, Exhibition (hockey theme), Pee-Wee International Tournament, Quebec city, Qc

2016

Cerberus, Conceptual Exhibition (thematic vintage hockey goalies), Maison Mélançon, Candiac

2014-2015
Collective exhibitions and symposia
Artexpo, Artblend Gallery, New-York

2019

Hélène-Sentenne Foundation Symposium, Candiac, Qc

2018

Infoman

Exhibition

, Galerie du Viaduc, Mtl

2018

Armori Steele Exhibition, Patrick Mikhail Gallery, Montreal, Qc

2017

Hist-Art

Exhibition

, Candiac, Qc

2017

Hélène-Sentenne Foundation Symposium, Candiac, Qc

2017

The AAPARS Spring Exhibition, Brossard, Qc

2017

Hélène-Sentenne Foundation Symposium, Candiac, Qc

2016

Festival of Arts

Symposium

, Port-Daniel, Qc

2015

Plaisir d'Artiste

Exhibition

, Montreal, Qc

2015

Hélène-Sentenne Foundation Symposium, Candiac, Qc

2015

Salon des Arts Symposium, Ste-Julie, Qc

2015

AVR

Exhibition

, St-Constant, Qc

2015

Festival of Arts

Symposium

, Port-Daniel, Qc

2014

Maison Mélançon

Exhibition

, Candiac, Qc

2013

St-Laurent Cultural Center, La Prairie, Qc

2011 to 2013
Gallerie
Patrick Mikhail, Mtl, Qc

2017

ImpresArts, Mtl, Qc

2015
Distinctions
Mention, Expo AVR, St-Constant, Qc

2015

3rd prize, Maison Mélançon, Candiac, Qc

2013
Publications
Hist-Art book, artwork published in collection for 60th year city of Candiac

2017

La Presse +digital newspaper, report section A guy, a passion
"The history of sport in hockey tape", section Pause, Sunday, April 3th

2016

Le Refletnewspaper, editorial report "He shoots and paints"

2014

Lambert Express digital newspaper, editorial illustrations

2014

Sportif Magazine, editorial illustrations

1993-1994
Broadcast
V-TV Report, Armori Steele Exhibition artworks, Patrick Mikhail Gallery, Mtl

November 30, 2017

TVA Sport TV Report, artworks and tape technique,
The Fanatik program and news bulletinTVA

January 15, 2015


http://www.tvasports.ca/2015/01/15/lart-cest-du-sport
http://tvanouvelles.ca/video/le-tva-nouvelles-de-22h-/3992202374001 (à 26:57)
ICI Radio-CanadaTV Report, works and tape technique,
program What a story

February 25, 2015


http://ici.radio-canada.ca/tele/quelle-histoire/2014-2015/episodes /351144/pansement-medecine-invention-blessure (à 24:15)
Others occupations
Graphic Designer, ad consultant and illustrator

1990 to 2019

Visual arts teacher

C.S.D.G.S

(high school, grades 1-3)

2009 to 2011